Medicine-On-Time
Sorted and sealed by your pharmacist, a smarter way to manage your medications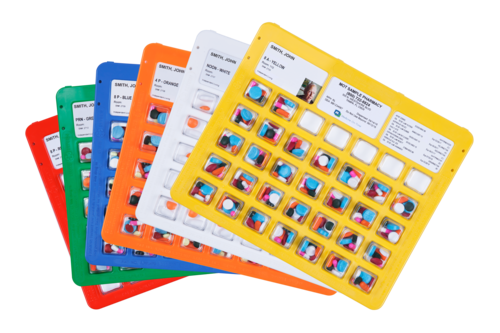 Medicine-On-Time is many things.
It's a Dose Cup: The right dose, at the right time. Each personalized cup is sorted and sealed by your pharmacist and labeled with the date and time it is to be taken. The right dose right at your fingertips.
It's a Calendar: Organized, color-coded convenience. Dose cups are organized in color coded Calendar Cards giving you a smarter way to stick to your schedule.
It's Refills Made Easy: One visit (or delivery), all your prescriptions.Synchronized and prepared in advance. No more rushing to the pharmacy. No more running out.
Medicine-On-Time is a medication management system that eliminates the time-consuming hassle of keeping track of multiple medications. To start, we will automatically refill and package your routine medications and have them ready on schedule. We will take care of contacting your doctor any time additional refills are needed. Medication changes are also made simple because our pharmacist will re-package your pills according to the doctor's new instructions. We would be happy to help you get started today with our Medicine-On-Time program!
Frequently Asked Questions
How often will my prescriptions be filled?
Each MOT calendar card holds four weeks worth of medications. A new set of calendar cards will be filled for you automatically every four weeks.
How do you package medications that I take only as needed?
As needed medications will be packaged in bottles so that you can take them when and only when they are needed.
How much does Medicine-On-Time cost?
In addition to the cost of the prescriptions themselves, there is a $25 per month charge for MOT services.
How do I sign up or get more information?
If you are interested in enrolling in the Medicine-On-Time program, or you just want some more information, please feel free to call us at 717-355-9300, or email SDS@RxSDS.com.